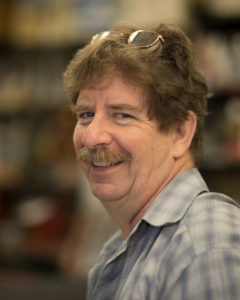 Looking for summer work, a young Jim took to washing windows around the neighborhood to make a little money.  Being the clever guy he is- he realized an opportunity for steady referral business: He introduced himself to the local glass shops around the neighborhood.  As the workload increased, he started hiring his friends so he could take on more jobs.  In the midst of the window washing , Jim came to know and respect one old "glass man" in particular.  Like many stories, this is a tale of an old-and-wise man in a skilled trade, passing along his learned abilities to a younger generation.
One day, Jim asked the glass man- "When are you going to show me how to cut some glass?", to which the old man said "you line up some jobs, and I'll help you do the work".  From washing windows around the neighborhood, Jim knew a few houses with broken windows in need of repair… perfect first-work for the enthusiastic youth to get his start!
A few minutes in, on the first job, the old glassman looks at Jim and says, "take me back, you don't need me."  Jim was dumbfounded!  He still felt like there was so much to learn!!!  But that old glassman, Bob Laird, saw something in the youngster- and what he gave to Jim that day, more than anything else, was trust and confidence.
Fast forward to today, and Jim is the same guy he was then- he's got a natural ability for glass work, a strong work ethic, and a keen eye always looking for opportunities to learn and improve.  But now, he's also got more years experience than he'd like to admit…
When he's not working, Jim enjoys spending time with his wife, Ines, his son, Jimmy, and does a lot of volunteering and giving back around the community and local neighborhood.  He is also an avid and accomplished hang glider pilot, and can be found soaring thousands of feet most weekends!
_______________________________________________________________________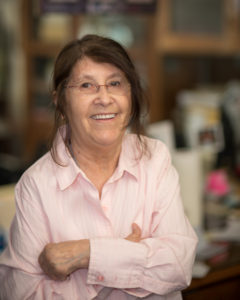 Ines is the smiling face of Donovan Glass.  Possibly the sweetest woman you will ever meet, she's reason alone to stop in the shop- and when you do, she's the first person you'll see.  In addition to all she does with the business, Ines has become well known for her continually changing seasonal decorations in the DG storefront.  Just as she does in our showroom, she brings a warm, homestyle vibe to our professional services.  Jimmy describes her as "the oil that keeps the Donovan Glass machine running".
Born in Chile, Ines came to the states working as a domestic family caretaker for Chilean diplomats.  That is, until the estate had a window that needed repair… and Donovan Glass was called in.  Jimmy was enamored immediately, and asked her out that same day.  The rest is history as they say!
When the shop is closed, Ines might be out shopping for fresh seasonal decor… or might be relaxing at home with her cat Elvis. 
_______________________________________________________________________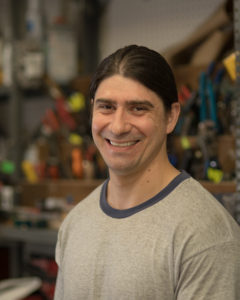 Jimmy (Jr.) grew up in a glass shop, with a glass glazier as his father, and was always surrounded by a full compliment of tools. He's generally quiet on the job, and focused on delivering the quality people know and trust from Donovan Glass.
He is experienced beyond his years in glass work, and keeps up with Angel and Jimmy Sr. no problem.  Jimmy takes a heavy burden off his dad's shoulders, helping around the shop, on job sites, and with various aspects of the business.
It's hard for a proud father to be modest about his talented son, but when asked where his greatest skill-set lies, Pappa Donovan says "He's the best screen man I've ever seen."
How Jimmy Jr. spends his free time remains a bit of a mystery… you'll just have to ask him if you want to know!
_______________________________________________________________________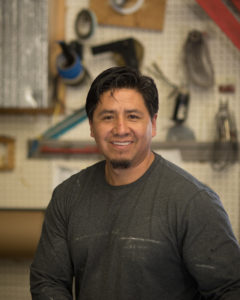 Angel has been with Donovan Glass since 2012. He came to us with 8 years of carpentry experience and a well instilled work ethic.
He is at the very heart of Donovan Glass and is as honorable and trustworthy as they come.  He has our full faith and confidence in all aspects, from measuring and pricing, to professional installations.
Angels' favorite past time seems to be work… with just a few minutes of watching him do his thing it's clearly evident he takes great pride in his quality work.  But once the work is done, he enjoys spending his time with his family.